Camping, to me, means sleepless nights lying on a shaky cot or a bouncy air mattress, listening to the rustlings in the night.  A flimsy canvas wall is the only thing separating me from the dangers lurking outside – and I am always convinced that there are many of them.  I am not what you'd call a "happy camper."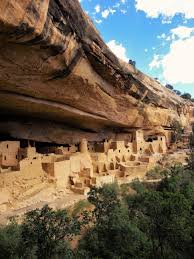 I have no joyful childhood memories of cooking hotdogs around the campfire of a campground.  Because of my father's work as a petroleum geologist, our family moved around the southwest of the United States every year.  My parents loved sharing the highlights of our new surroundings on fun weekend excursions we called "Family Outings."  We explored the canyons, mesas, and historical cities of Colorado, New Mexico, and Utah, the towering redwoods and rocky shore of the California coast, the bluebonnet-dotted plains of Texas, and the wide open spaces of Wyoming.  But we did our exploring in the daytime and spent our nighttime hours in the comfort of roadside motels.
When my son was still an infant, my husband and I decided to try our first camping vacation.  I was in my twenties and eager for a new experience, so we went to the nearest sporting goods store and picked out everything we would need for a tenting adventure…a little gas stove, tin plates and utensils, sleeping bags, and a nice roomy tent.  We set out for a spring trip to Anza Borrego State Park in the desert of southern California.
It did not go well.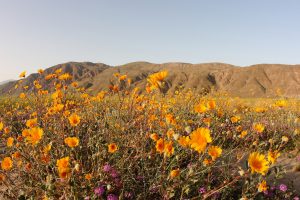 With balmy weather and a desert in bloom, the daytime was lovely, walking the park trails and reading the brochure describing the resident plants and animals we spotted.  I managed to scrape up a dinner of beans and franks in our little tin pot and all seemed well as we went to bed.
About midnight, a wild desert wind blew in from over the mountains.  We looked at each other a little nervously as the tent began to tremble, shaking harder with every gust.  Suddenly the corners of the tent tore from the spikes holding them to the ground.  We bolted from our sleeping bags and spent the next several hours wrestling with the tent and praying that it wouldn't blow away altogether.  In the midst of the commotion, baby Brian started to cry and by morning he had a high fever which we recognized as a symptom of his frequent ear infections.    That was enough for me.  On the eight-hour drive home the next day, I decided my camping days were over.
But the great outdoors beckoned and, thirty years later, we decided it was time to give camping another try.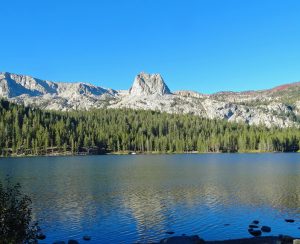 Rob and I set up camp on the shores of Lake George near Mammoth Mountain.  From our campsite, we gazed across the lake at Crystal Crag.  We hiked for miles and ate a delicious dinner – cooked by a chef in a Mammoth restaurant.  The summer sky was blue and the wind was calm.  Surely I would be able to get a good night's sleep in this lovely setting.
It did not go well.
Those things that go bump in the night were still out there.  Every thump of a branch, every rustle of the leaves, had me convinced the brown bears that prowl this mountain could smell the food we had packed for breakfast and were outside ready to rip through the canvas and devour us in our sleeping bags.  Weren't rattlesnakes looking for nice warm beds to curl up in and would those damn crickets ever shut up?   And just as I would feel a little wave of sleepiness overtake me, my 50-year-old bladder would give me a wake-up call and I would have to venture out to the camp outhouse, my flashlight sweeping the pathway for the red-eyed ravenous bears.
In the light of morning, I could laugh at my trials, but I once again vowed to stick with a nice cozy bed for future trips, so it was with some trepidation that I learned that our upcoming trip to Africa was entitled "Serengeti Tented Safari."
TO BE CONTINUED