Dear Joan's Journey Jottings Followers,
You haven't had much to follow the past four years!  Following the death of my mom in 2016, my husband Rob and I moved in with my 91 year old dad so that he could continue to live in the home he loved.  When he passed away a year later, our time became filled with moving from our home in Bakersfield and settling in to our new home in Marina, California.  We love our new life on the shores of Monterey Bay.  But all of this meant that my travel writing took a back seat for a while.
I'm happy to say that I'm back, full of stories and ready to write!  But I have never been entirely happy with this platform for my travel stories, so I have just premiered an entirely new travel story website.  My first story about our fabulous visit to the mountain gorillas of the Bwindi Impenetrable Forest in Uganda is already online.  I think you will enjoy it!  My next step will be to move the 15 or so stories currently on Joan's Journey Jottings over to the new website, but after that, it will be all new content.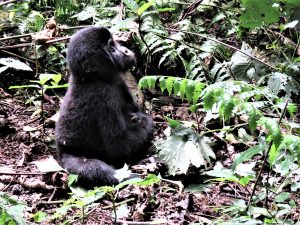 Thank you so much for subscribing to Joan's Journey Jottings.  If you enjoyed what you read there, I have a very special favor to ask.  I would love to have you check out my new website "Travels With Robby 2 – Our Best Adventures" at Travels With Robby 2 and fill out the "Follow by Email" box on the right hand side of the blog.
As soon as I get all of the stories moved over to the new website, I will be removing Joan's Journey Jottings, so you will simply be moving your subscription from one blog to the other.   Hope to see you there!
P.S.  You may have also received an email with this same information.  If so, I apologize, but I have learned that a lot of the bulk emails go to your spam box, so this is to ensure that you get this message.
P.P.S.  Happy New Year!!!