Travel Tip:  Take risks.  Try something new.  (Always remembering not to be fool-hardy, of course.)  Don't be afraid to push yourself beyond your comfort level when you travel.  It can lead to some of your best adventures!
"What in the world?"  I stared down at the pile of shredded newspaper on the floor of our tent.  Rob and I had just returned from a day of exploring the zoological wonders of Kenya's Masai Mara to find this mess.  I picked up the largest pile of newspaper and discovered it was the wrapping around a carved wooden giraffe we had bought at the Nairobi Giraffe Center earlier in the trip.
"This is so weird," I said to Rob. "The staff must have thought it was trash, then put it back when they figured out it was our giraffe.  But why would they have left the mess on the floor?"  We walked up the wooded path to the reception building to report the incident.  The receptionist chuckled.  "Hakuna matata.  No worries!  It was not the staff.  The baboons have learned to unzip your tent cover.  They come in looking for food."
Hmph…it might have been nice for them to have told us this when we checked in, I thought.  I would have been completely freaked out if I'd been awakened by a baboon rifling through my bags in the middle of the night!  I'm a reluctant camper so I was already nervous about our Africa tour, "Serengeti Tented Safari."
So far, there had, indeed, been no worries.  In fact, our first stop at the Karen Country Lodge in Nairobi had been downright luxurious – a huge bedroom with a fireplace, comfy couches, and a modern bathroom.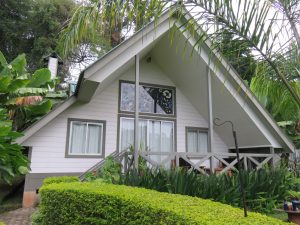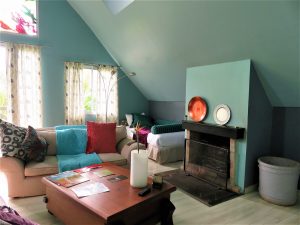 And in the Masai Mara, our first "tent" experience at Sentrim Mara Lodge was not at all what I thought of as tent camping.  Yes, our room had canvas walls, but it was huge, with a high ceiling attached to a strong wooden frame, and an adjoining stone building containing a dressing room and bathroom with a modern shower.  I could definitely get into this kind of camping – until I learned that baboons knew how to open the zippered exit to our balcony!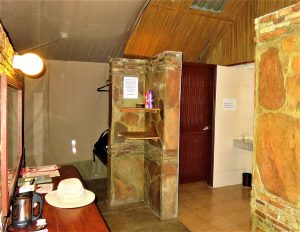 With this new knowledge, my second night much less restful.  I was now alert for any strange noise – and sure enough, I heard one.  A loud rustling sound kept up for hours just outside the front door.  Too scared to go investigate, I lay awake in the pitch black, imagining huge baboon fangs scraping away at the canvas.  In the morning, I called a passing staff member to report the noise.  He poked a stick into the rafters, then roared with laughter at my startled scream as a large bird flew out of the thatching under the porch roof.   But by our third night, I was beginning to get into this unique experience.  The safari drive memories were blotting out my silly fears, and I slept like a lion, curled up in my mosquito-netted den.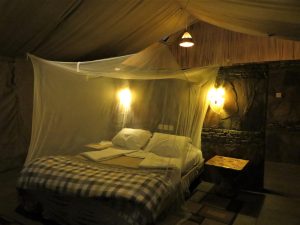 The gorgeous Moivaru Lodge in a jungle setting outside of Arusha, Tanzania had us back in the lap of luxury for one night on our way to Tarangire National Park.  No baboons here – just adorable blue vervet monkeys swinging through the trees outside of the lodge's restaurant.  The "scariest" creatures on the grounds were the busy ants that marched across the path leading to our cabin.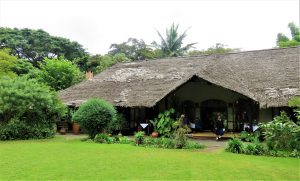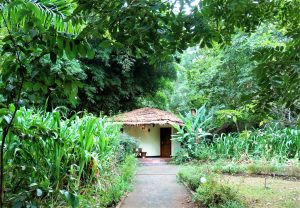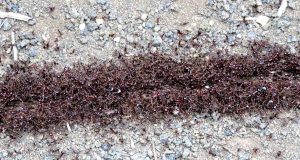 We were back to tented camping at our next stop, the Burunge Tent Camp Lodge.  Once again, one could hardly call this "tent camping," as we sat on our wooden porch overlooking Lake Burunge with its large flock of pink flamingoes.  This tent was also on a high platform, with real beds, bathroom, and shower.  I admit to being nervous walking to our tent after dark.  It was the furthest away from the lodge restaurant and the path was lined with bushes and poorly lit.  But once we were inside, it felt as comfortable and safe as any hotel room.  The only sounds here were the sleepy birds twittering in the forest.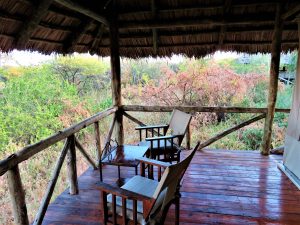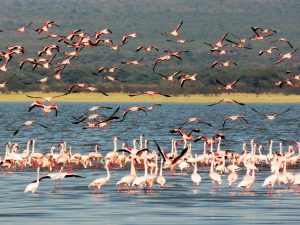 I knew there was one more tenting experience awaiting us – and Cosmas, our guide, had warned us our final tent camp would be a more primitive experience.  I fretted internally about this final camp throughout the entire trip, remembering unpleasant camping experiences from the past.  My nerves were on edge as we approached our camp in the hills overlooking the Serengeti plains.  Tour companies are not allowed to created permanent lodges here. The tents must be moved periodically to protect this important national park's environment, so it was no surprise to find a campground of ten small canvas tents, stretching out in two lines from the main covered dining tent.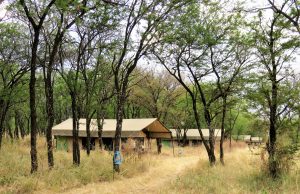 Our "beds" were cots, and the windows were zippered flaps.  But there was a canvas wall inside separating the sleeping area from a real toilet on a wooden platform, and another canvas chamber with a make-shift shower.  When we wanted a shower, we notified a staff member who would fill the 4-liter bucket outside with hot water.   We pulled a handle inside the tent to release the water, and soon discovered that it lasted long enough to get a perfectly good shower.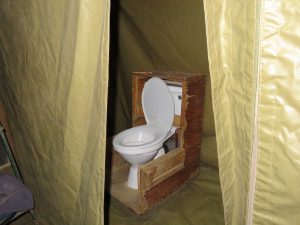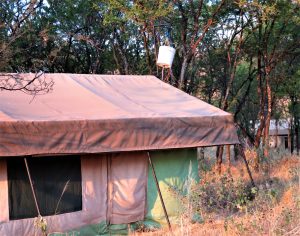 "Please do not leave your tents at night," warned Cosmas at our dinner meeting.  "The animals roam right through the camp after dark.  You will find a whistle on the table in your tent.  If you blow it, a staff member will come to your aid."   We campers stared back at him, open-mouthed and wide-eyed.  "Don't worry," he laughed.  "The only animals who might come in your tent are the mice.  Just be sure you don't have any food in your tent and you'll be fine."
After dinner, we walked down the dark path to our tent – once again at the farthest end of the camp – swinging our lanterns back and forth to warn off any lurking beasts.  But here's the thing.  Africa was working its magic on this reluctant camper.  I climbed into my shaky cot, snuggled under the thick blanket, and drifted off to sleep, listening with delight to the sound of a lion huffing in the distance.